Overview
ABOUT 'THE MACHINIST SUPER SHOPFLOOR AWARDS' The Machinist Super Shopfloor Awards are organised by Worldwide Media (WWM), a fully owned subsidiary of The Times of India Group (BCCL).

The Machinist Super Shopfloor Awards is India's first and only red-carpet ceremony for the country's discrete manufacturing industry. Started in 2015, the platform has created a benchmark through its credibility, industry acceptance and popularity over the last Seven years. The 8th edition was celebrated on June 17, 2022, in Bangalore.


The process
Nominations are invited from shopfloors (and not companies). It is an open and fair platform that truly brings out the best of Indian manufacturing. Eight different categories address the key measurable parameters for a manufacturing plant's performance.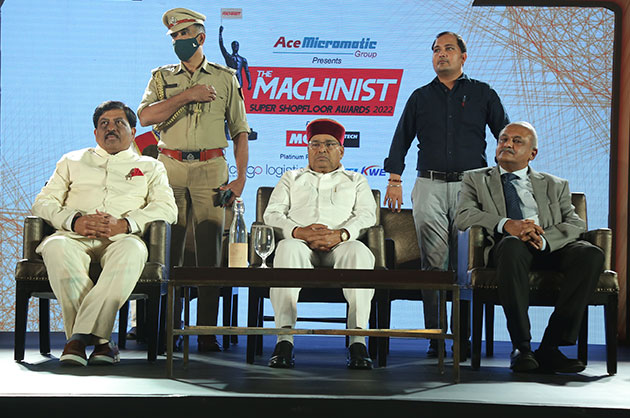 OVERVIEW
There are two segments to create a level playing field - Large Enterprises (Annual company turnover Rs.1000 crore and above) & SMEs (Annual company turnover less than Rs.1000 crore). Although MNC companies sometimes get treated as SMEs due to their India turnover being less than Rs.1000 crore, they are treated separately from homegrown SMEs to be fair to the latter.

Sending entries is simple and the nomination form is self-explanatory. Nomination FAQs are also provided to help plants create their nominations. The shortlisted nominations are assessed by an eminent panel of jury members, who are top management industry experts with substantial experience. The winning companies are selected based on their thorough evaluation.

The winners are felicitated at a Grand Awards ceremony and take home the coveted 'Machie' trophy. The Machie trophy has now become so popular that many now refer to the awards platform as the 'Machie Awards'.


The categories include:
- Environment, Health and Safety (EHS)
- Manufacturing Excellence
- Digital Manufacturing
- Innovation (Product / Process)
- Quality
- Human Resources (HR)
- Corporate Social Responsibility (CSR)
- Supply Chain
Editorial Choice Categories:
- Outstanding Contribution to Manufacturing Industry Award
- CEO of the Year Award (Male)
- CEO of the Year Award (Female)
- NextGen of the Year Award
- Sustainable Manufacturer of The Year Award
- Business Leader of The Year Award
- Lifetime Achievement of The Year Award
- HR Person of the year
- Innovator of the Year Award
- Best Organisation for Women
- Best Women in the Manufacturing
- Shopfloor of the Year Award
- Best CIO of the year

16:45 – 17:15
Registration & Networking for all the attendees
17:15 – 17:20
Emcee announcements
17:20 – 17:25
Lamp Lighting with key dignitaries
17:25 – 17:30
Welcome note by TK Ramesh, MD, Ace Designers Pvt Ltd
17:30 – 17:50
Fireside Chat with The Super Shopfloor Awards Jury Members
17:50 – 18:30
CEO Panel Discussion - Ease of Doing Business to Ease of Living: How the Manufacturing Sector Evolved for the Workforce
• Mahesh Babu, Group CEO, Switch Mobility
• TK Ramesh, MD, Ace Designers Pvt Ltd
• Harish Chavan, CEO - Swaraj Division, Mahindra & Mahindra Ltd
• Dr. Jairam Varadaraj, Managing Director, Elgi Equipments Ltd
• Preeti Bajaj, CEO & MD, Luminous Power Technologies
• Gursaurabh Singh, Founder, Dhruv Vidyut
Moderator: Abhijeet Sinha, Programme Director, Ease of Doing Business
18:30 – 18:30
Arrival of Sh Bhupendrabhai Patel, Hon'ble Chief Minister, Gujarat on the dais
• Sh Bhupendrabhai Patel, Hon'ble Chief Minister, Gujarat
• Mr Deepak Lamba, President - Times Strategic Solutions Ltd and CEO - Worldwide Media
• Ms Sunita Quadros, Chief Business Officer, ET Edge, Times Strategic Solutions Ltd
18:30 – 18:35
National Anthem to be played
18:35 – 18:45
Opening Note Mr Deepak Lamba, President - Times Strategic Solutions Limited and CEO - Worldwide Media
18:45 – 19:10
The Machinist Editorial Choice Awards (Part 1) (Hon Chief Minister will felicitate the winners)
19:10 – 19:20
Chief Guest Address by Sh. Bhupendra Patel, Hon'ble Chief Minister, Gujarat
19:20 – 19:35
Vote of Thanks (for Hon'ble Chief Minister) by Rahul Kamat
19:35 – 19:40
National Anthem to be played
19:40 – 20:05
Large Enterprise Awards and SME Awards (Part 2) Hon Industry Minister will felicitate the winners)
20:05 – 20:25
Guest of Honour Address by Sh. Balvantsinh Rajput, Hon'ble Minister of Industries, Micro, Small and Medium Industries, Cottage, Khadi and Rural Industries, Civil Aviation, Labour and Employment, Government of Gujarat
20:25 – 20:30
Vote of Thanks by Mahadev B
20:30 – 21:00
Mocktails, Entertaintment and Dinner
Agenda is work in progress and subject to changes